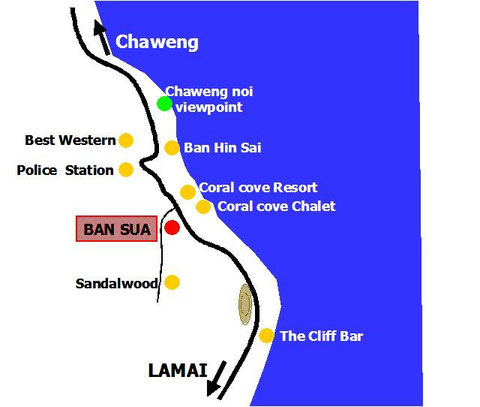 Located in the upper end area of Samui, you will find us below well known luxury Sandalwood resort on the hillside.
While the best known beaches Chaweng and Lamai are only minutes away, the following spots are as well just minutes away by public transport:
-  Chawengs largest shopping malls, 10 minutes,
-  Lamais largest shopping malls and supermarkets, 5 minutes,
-  3 modern, full size and well equipped hospitals, 5-10 minutes,
    with offers from plastic surgery till inexpensive regular checks,
-  400m from Samui´s newest golf course, the RSGCC, which offers
    substantially cheaper green fees than it`s Maenam competetor,
- dentists, who offer special packages for foreigners, in 5 minutes
   reach,
- popular restaurants in 5 minutes reach, for example The Cliff or
   Dr. Frogs or try a secret tip and dine at Sandalwood restaurant,
- lively areas nearby, so you are near the crowds, but not in the
   hectic and noisy areas.
If you love sea views and are looking for relaxing holidays with all options nearby, we are your place to be.
The full moon party in Koh Phangan is happening during your vacations with us and you thing about going to the full moon party. Please ask us, with a few tips from us it is an still good experience and we can arrange tickets for it as well.